PickLang – AI based language-learning app
What was done
Created an App for iOS and Android
Industry
Language learning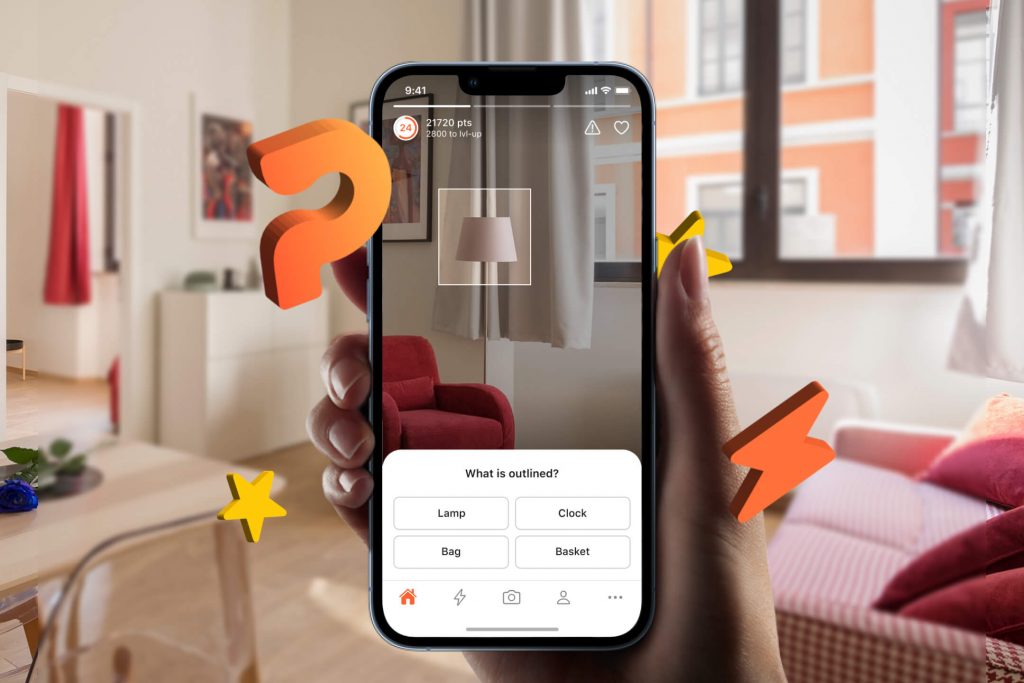 Overview
PickLang is a language-learning app that helps users learn new languages through interactive lessons and practice exercises based on AI technology. The goal of the app is to provide an engaging and effective language-learning experience for users around the world.
Spaceberry team was tasked with designing the app for both iOS and Android platforms. The app had to be user-friendly, easy to navigate, and offer a variety of features that cater to users' different learning needs.
The Challenge
The language-learning market is highly competitive, and our client wanted an app that could stand out from the crowd, and offer features that would set it apart from existing products. They have already created a back-end part of it and a few prototypes of how they imagined their app would look.
One of the key challenges was to ensure that the app was suitable for users of all ages and language levels. We had to create an app that was intuitive and easy to use for beginners, while also providing advanced features for experienced language learners.
Our Approach
At Spaceberry, we designed the PickLang app intending to make language learning as engaging and personalized as possible. To achieve this, we utilized a variety of features and design elements to create an app that users would enjoy using and stick with over the long term.
After three test screens, the best one was chosen and our main work began. We conducted a survey of user interests to generate content that best matches their preferences.
With our help, the app includes the following features:
User survey: A questionnaire for users about their interests to generate content that best matches their preferences.
Onboarding: An interactive learning system that walks users step-by-step through the basic functionalities of the app, including taking a photo, answering generated tasks based on the photo, completing tasks in the task feed, and trying the test mode.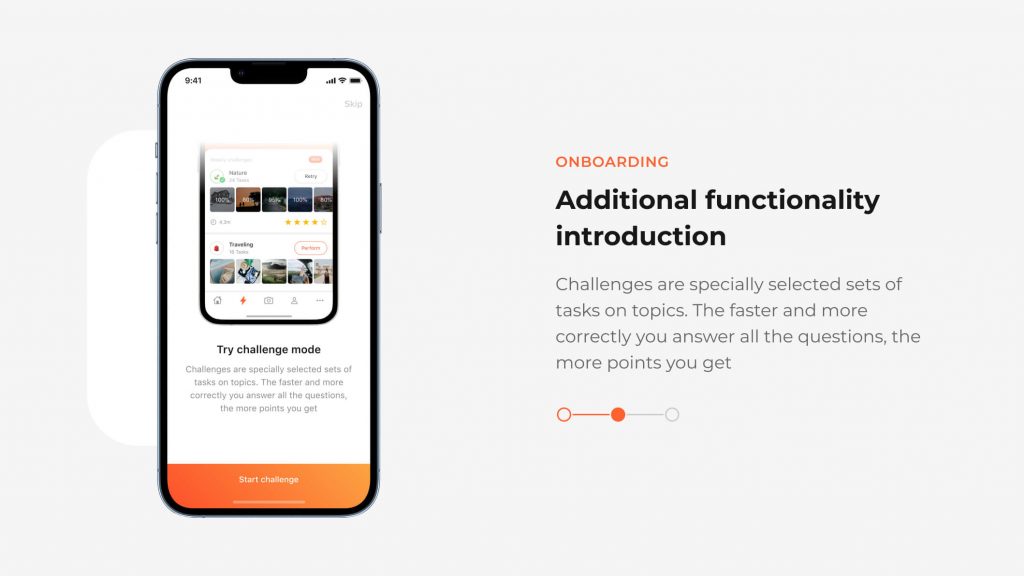 Gesture-based interaction: A system that allows users to switch between questions or skip tasks with ease, making the process as comfortable as possible.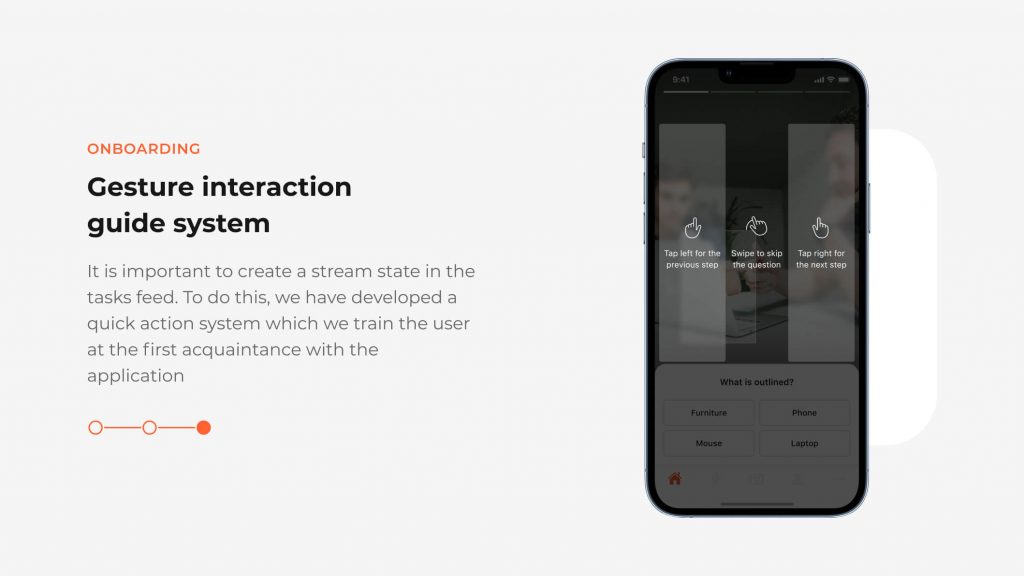 Task variety: There are two types of tasks. Selecting the correct answer from the options about what is depicted in the highlighted object in the photo, or completing a sentence describing what is happening in the photo. The tasks are generated almost endlessly from a huge database of photos and are personalized to engage the user as much as possible.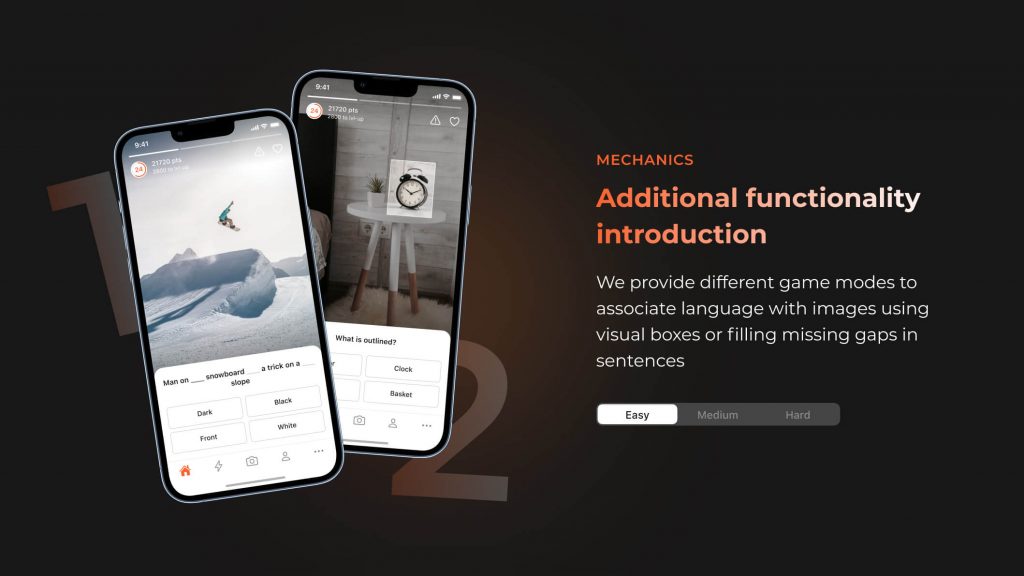 AI-generated questions: Users can take their own photos or upload images, and the app will use artificial intelligence to recognize what is in the photo and generate questions.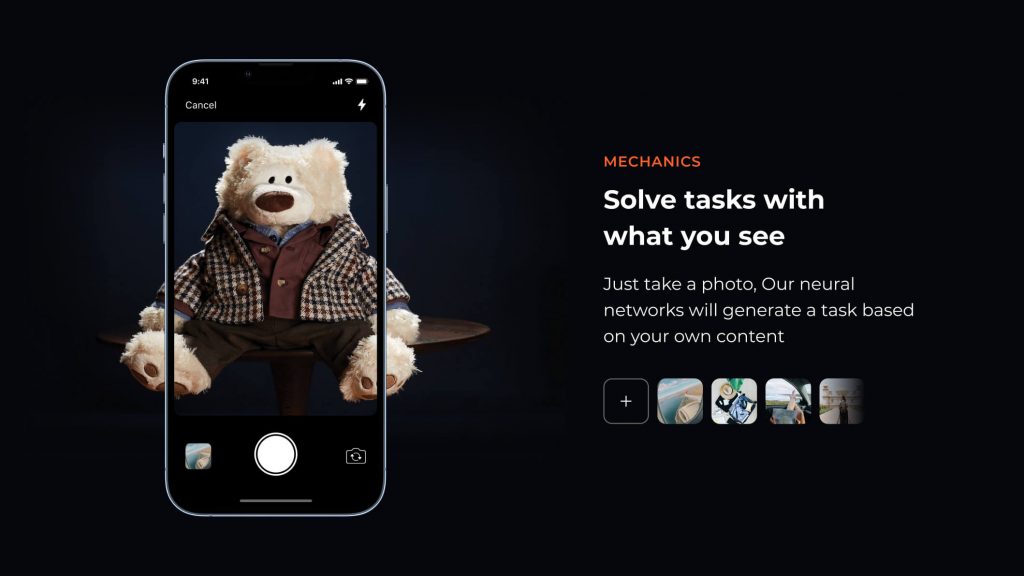 Gamification system: The app has an extensive gamification system that rewards users with points for completing tasks and tests, increasing their user level, and unlocking opportunities to decorate their profile frames. We also created an achievement system that unlocks animated achievements, creating a competitive effect that motivates users to keep learning.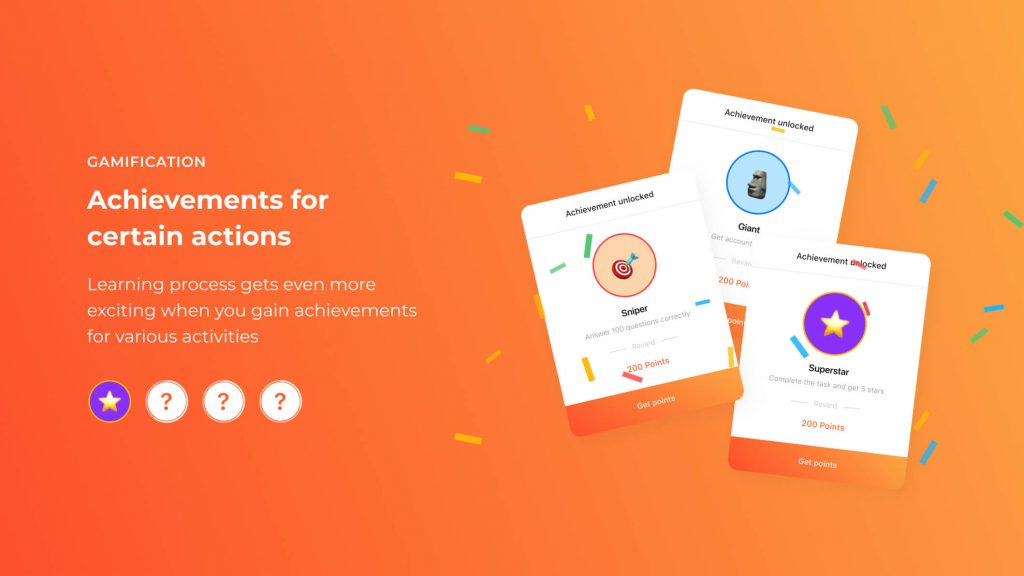 Progress tracking: Users can track their activity graph and language level growth progress, aided by notifications that remind them of the importance of their studies.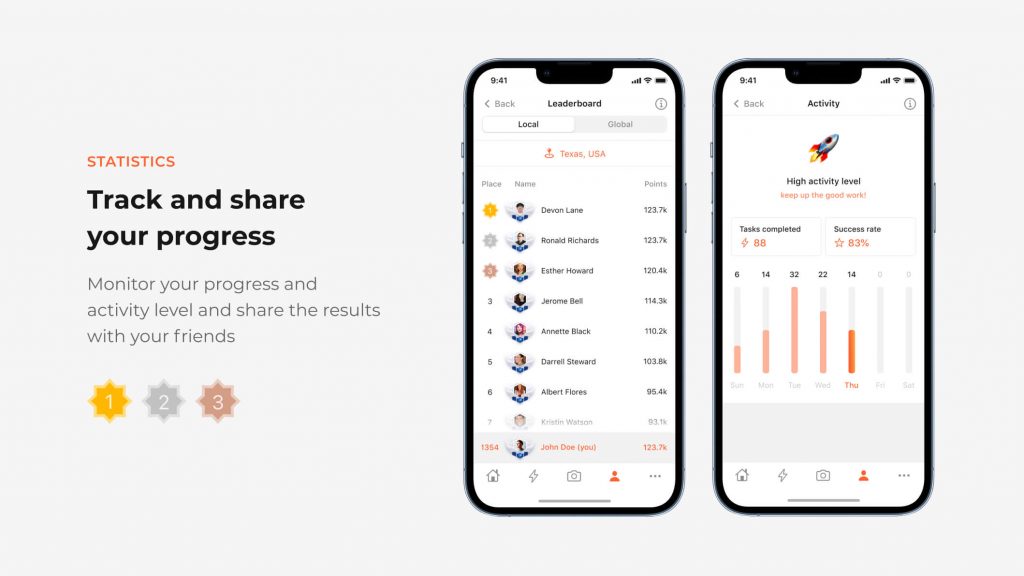 Customizable settings: The app offers settings to adjust task difficulty and types, as well as a dark mode option for comfortable use during evening hours.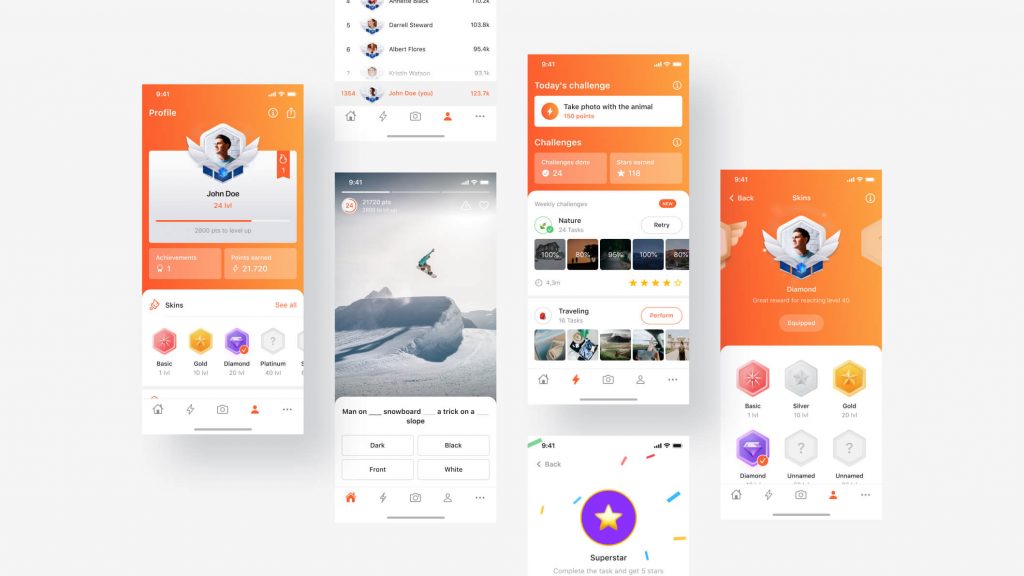 By incorporating these features and design elements into our app, we aimed to create an engaging, personalized, and effective language learning experience for our users.
It's important to mention that PickLang's AI-based mobile application is designed to provide the best English learning experience for all users, including those with different learning abilities. The app's state-of-the-art neural network learns from user feedback, making it an effective tool for everyone.
Client's feedback
According to PickLang's CEO:
"One of the most important things was Spaceberry Studio worked as a product-driven team. Their suggestions and experience were helpful to us throughout the collaboration."
We were delighted to hear that our approach aligned with PickLang's needs and that we were able to provide valuable insights and expertise throughout the project. Our team worked closely with PickLang's project manager and a UX/UI specialist to create an intuitive and visually appealing interface that would provide users with the best possible English learning experience.
PickLang's CEO also noted that "the development team and design team were initially working by weekly sprints on the project, which later turned to work upon request." This approach allowed us to be flexible and adapt to PickLang's evolving needs as the project progressed. At Spaceberry Studio, we value close collaboration with our clients and strive to create products that meet and exceed their expectations.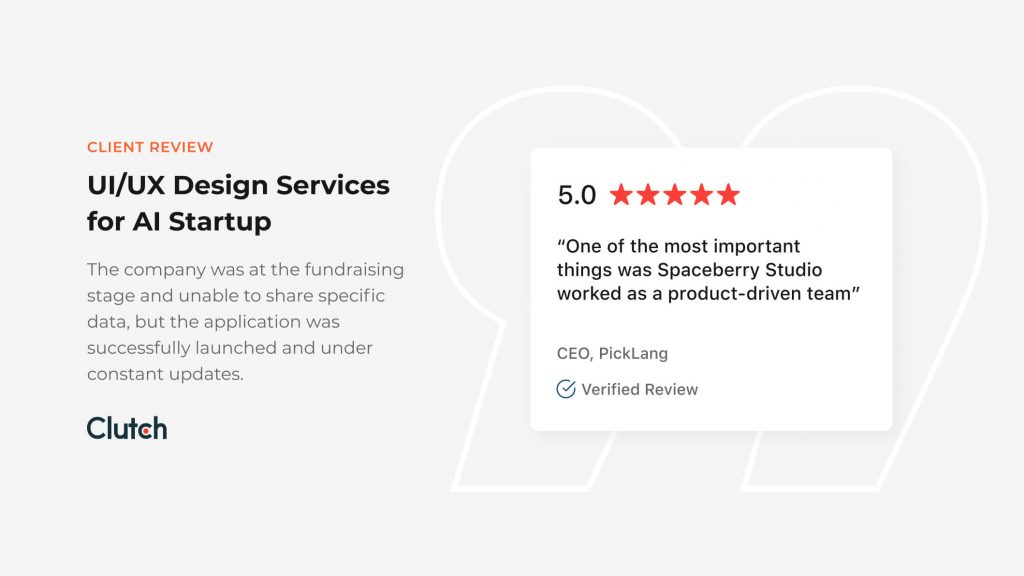 Results
With the help of Spaceberry, the PickLang app has been successful in providing an engaging and effective language-learning experience for users around the world. Here are some of the key results achieved:
User engagement: The app has received positive feedback from users, with many users rating it highly in app stores and leaving positive reviews.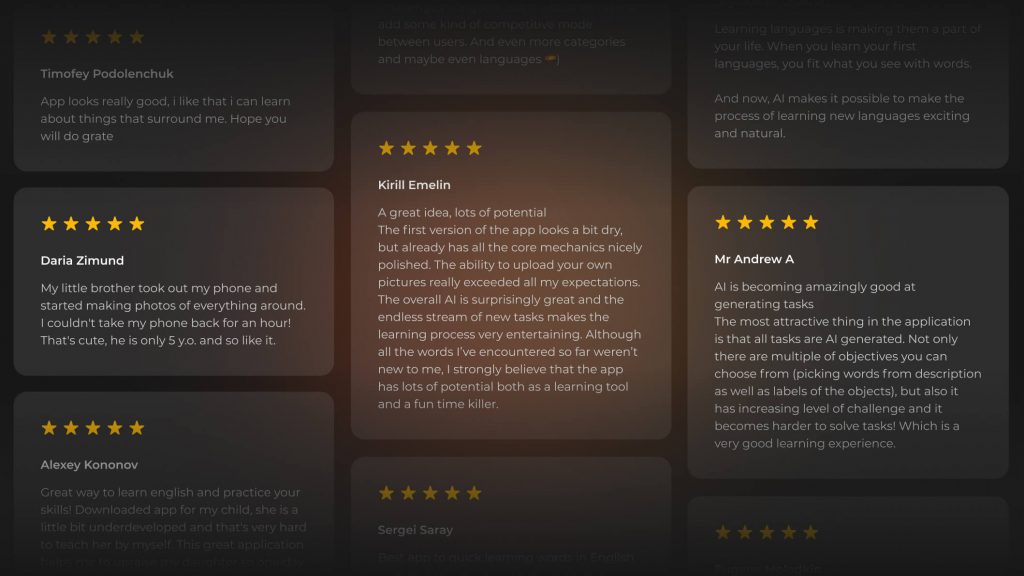 Currently, the app has 32 reviews and all users gave a score of 5 stars!
User retention: The app has a high retention rate, with many users sticking with the app for the long term. This is due in part to the app's engaging features and personalized content, which help users stay motivated and interested in their language-learning journey.
User growth: The app has seen steady user growth since its launch, with new users joining the app every day. This growth is a testament to the app's effectiveness in providing a quality learning experience.
Language proficiency: The app has helped many users improve their language proficiency, as evidenced by positive feedback from users and the progress tracking feature in the app.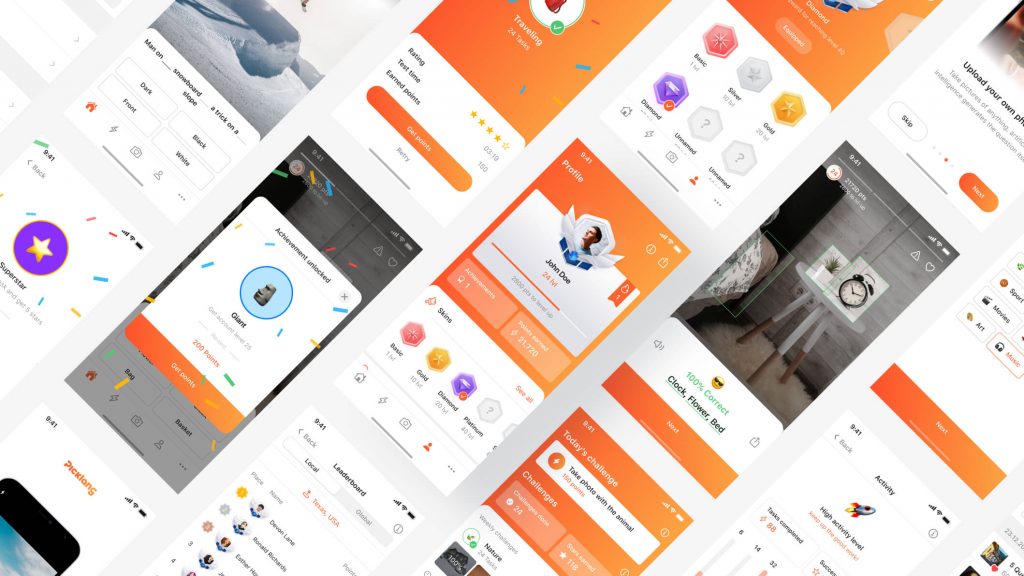 Conclusion
In conclusion, the PickLang case study by Spaceberry highlights the importance of custom web design for businesses looking to stand out in a crowded online space. By collaborating with a web design agency to create a unique and personalized website and app, PickLang was able to establish its brand identity and appeal to its target audience.
However, it's important to consider the web design cost and website design pricing packages when choosing a web design agency. By doing thorough research and selecting a reputable agency that offers transparent pricing and customized solutions, like Spaceberry, businesses can achieve their desired outcomes without breaking the bank. Overall, custom website design can be a valuable investment for businesses looking to differentiate themselves and establish a strong online presence.