Gorge – live-streaming food application
What was done
Created an App for iOS, Android and Web
Industry
Food and beverage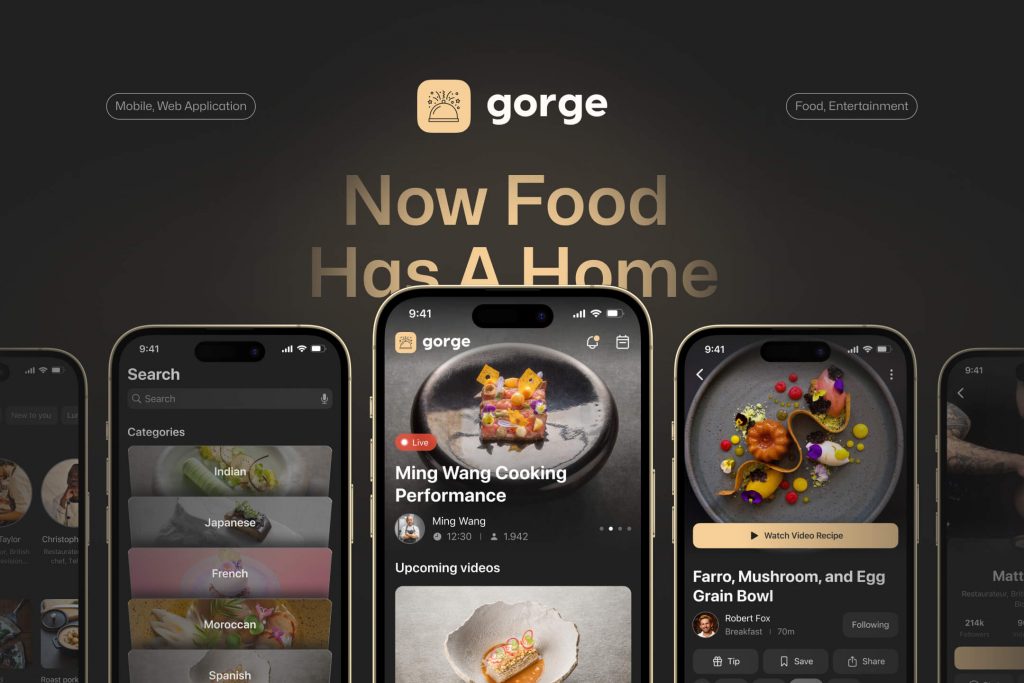 Overview
Gorge approached Spaceberry Studio with a unique challenge – to create a captivating and user-friendly custom web design for their site and mobile applications. This overview will outline Gorge's vision and the initial stages of our collaboration as we embarked on designing their platform from scratch.
The challenge
Gorge approached us with an exciting concept for a live-streaming platform in the food and beverage industry. They had the vision to create a platform that would revolutionize the way food enthusiasts engage with content, showcasing live experiences, tutorials, and culinary events.
While Gorge had the idea, they recognized the need for a skilled design partner to bring their vision to life through captivating user interfaces and seamless user experiences. Spaceberry Studio embarked on an in-depth discovery phase, collaborating closely with Gorge to understand its target audience, objectives, and unique value proposition. Together, we explored various design concepts and identified key functionalities required to deliver an immersive live-streaming experience.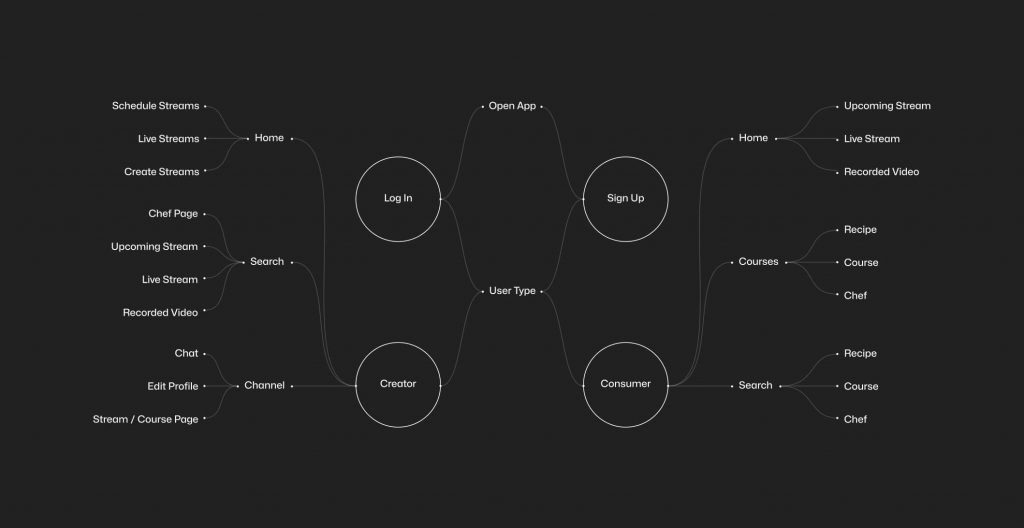 Our approach
At Spaceberry Studio, we embarked on designing a state-of-the-art and user-friendly mobile application for Gorge, starting from scratch. We focused on delivering a seamless user experience, incorporating modern design principles and innovative features. Here's an overview of our approach:

Simplified Registration and Login Process: We developed a cutting-edge registration and login process, allowing users to access the application using only their email or social media accounts.
Personalized Onboarding
We implemented an onboarding system where users could select their favorite global cuisines, and preferred chefs, and indicate their food preferences or allergies. This customization ensured that the content was tailored to each user's preferences, enhancing their overall app experience.
Explore Section
We designed a personalized "Explore" section, offering curated collections of the most engaging videos, courses, and recipes. This feature ensured that users always discovered something new and exciting within the app.
Advanced Search Functionality
We developed a user-friendly search system that categorized content based on different global cuisines. The intelligent search algorithm provided users with the most relevant results.
Live Streaming
On the home screen, users could access live-streaming sessions where they could witness culinary magic in real-time, presented by the world's top chefs. The viewing experience was optimized for various display formats, including horizontal, vertical, and thumbnail views.
Chef Application
Additionally, we designed a separate version of the application specifically for chefs. This version allowed chefs to easily upload and edit videos, live streams, recipes, and courses. They could schedule both planned and spontaneous broadcasts, providing viewers with detailed cooking processes and an immersive experience.
Interactive Video Viewing
Within the video viewing page, users could express their opinions through comments, and reactions, and access the recipe details and ingredients used in the dishes. They could seamlessly transition to the recipe page for a step-by-step cooking guide.
Culinary Courses
We designed a comprehensive culinary course system that enabled users to learn cooking techniques through step-by-step video tutorials delivered by renowned chefs.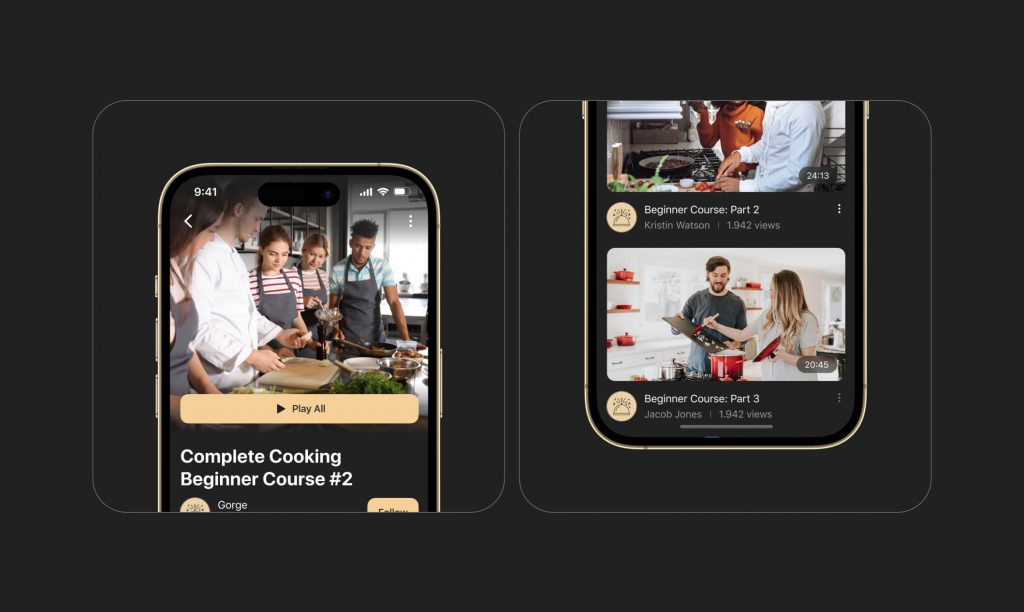 In-App Monetization
The application is monetized through in-app purchases, allowing users to order cooking ingredients and purchase selected recipes and courses.
Financial Management
The chef application also includes a financial management system to track sales and revenue generated from their content.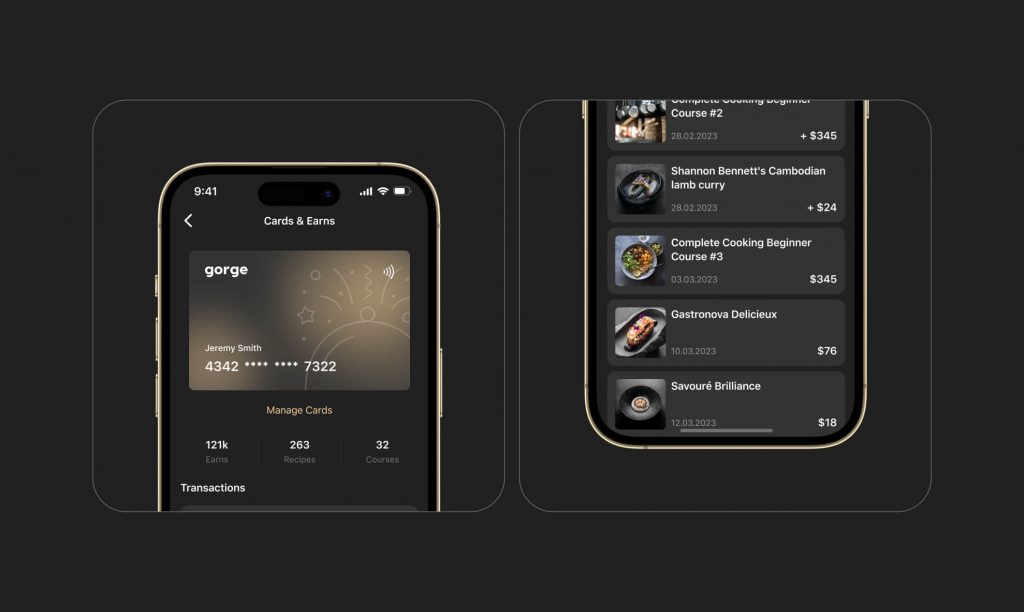 Social Interaction
Users could follow chefs and other users, fostering communication through an integrated messenger where they could share their thoughts, favorite recipes, and videos.
Favorites and Collections
Users had the ability to save and create collections of their favorite recipes and videos for quick access and organization.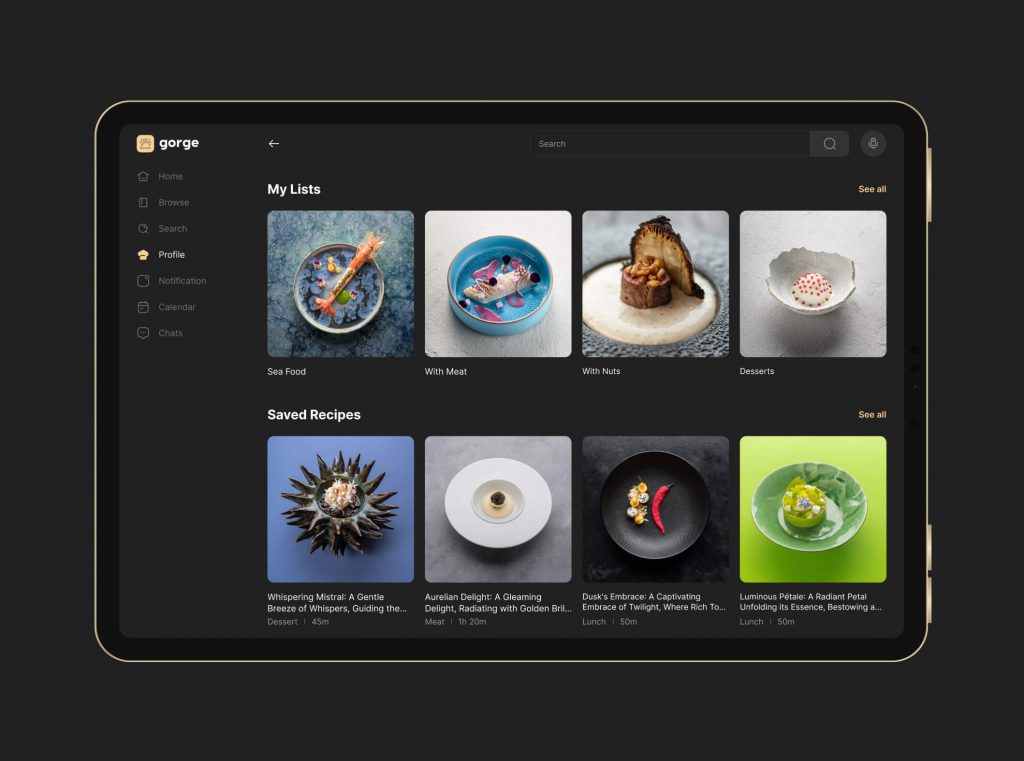 Calendar Integration
We developed a calendar feature that displayed upcoming events and live streams, helping users plan their culinary experiences.
Cross-Platform Compatibility
We developed native iOS and Android applications, ensuring smooth and familiar user interactions on their respective devices. Additionally, we created a web version for desktops and larger screens.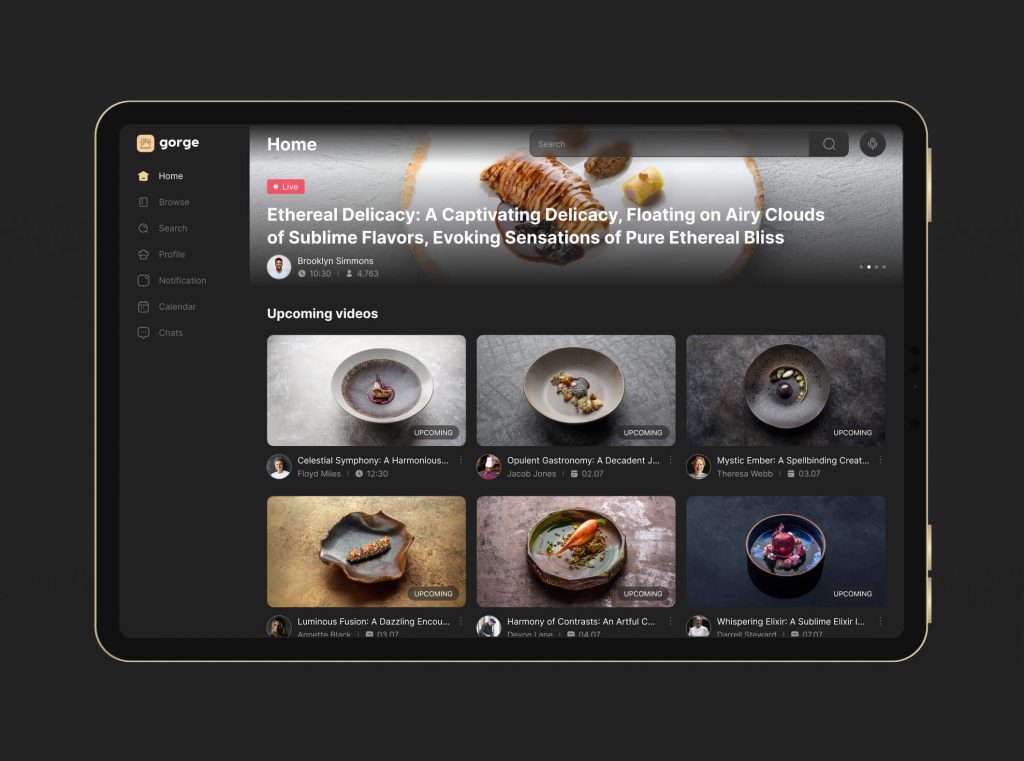 Content Moderation
To maintain a safe environment, we implemented a content moderation system to ensure that users did not encounter offensive videos or comments.
Marketing Website
To promote the application and provide insights into its features, we developed a marketing website to engage and inform potential users.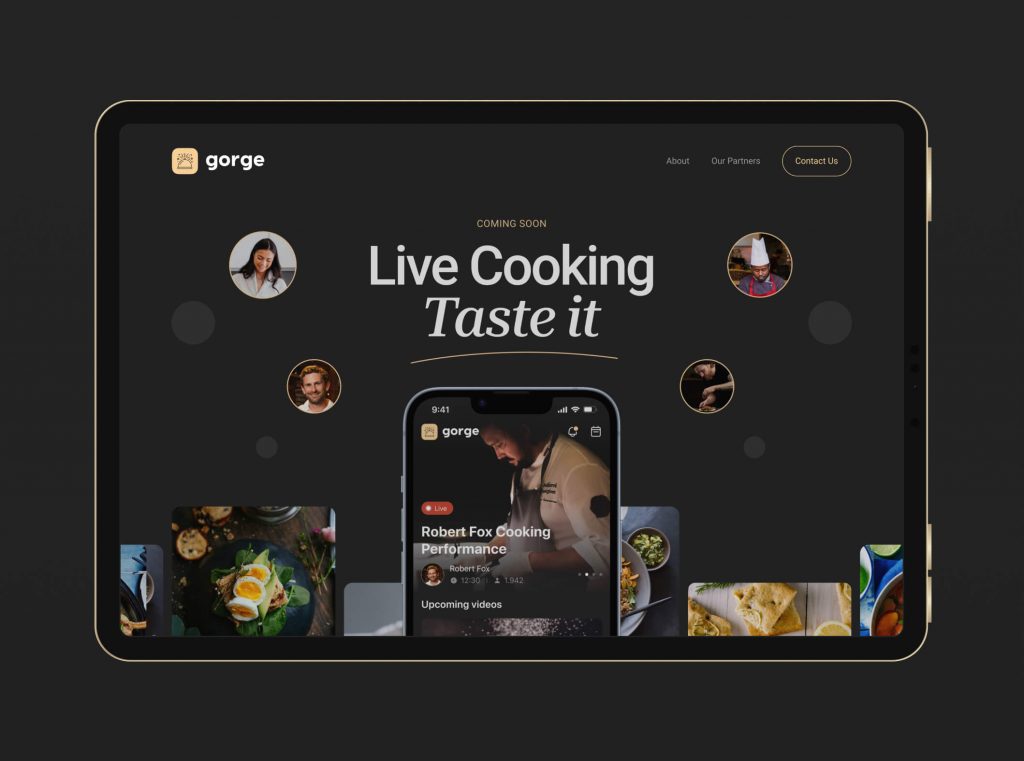 By meticulously implementing these features, we successfully delivered a custom-designed, feature-rich application that revolutionized the way users engage with culinary content. The collaboration with Gorge allowed us to create a unique and delightful user experience that exceeded their expectations.
Client's feedback
Eamonn Carey, Director of Gorge, expressed his satisfaction with Spaceberry Studio's work, highlighting our exceptional project management and communication skills. According to Eamonn, "Spaceberry Studio's project management is excellent." He further emphasized the promptness with which we responded to feedback and requests, as well as our ability to quickly grasp the product and idea. Eamonn also commended the speed at which the designs were created, iterated, and finalized, stating, "The communication with the team, the speed at which they worked, and the quality of the deliverables were all exemplary."
These positive remarks from our client, Eamonn Carey, who is a general partner at Tera Ventures and an investor in numerous companies globally, serve as a testament to our commitment to delivering outstanding results and exceeding expectations in every aspect of our collaboration. Eamonn Carey is a well-respected figure in the technology and entrepreneurship space, regularly speaking at major global conferences and contributing to renowned media outlets such as Wired, TechCrunch, and the BBC. His endorsement of our project management, communication, and deliverables underscores the quality of our work and the impact it has on our clients.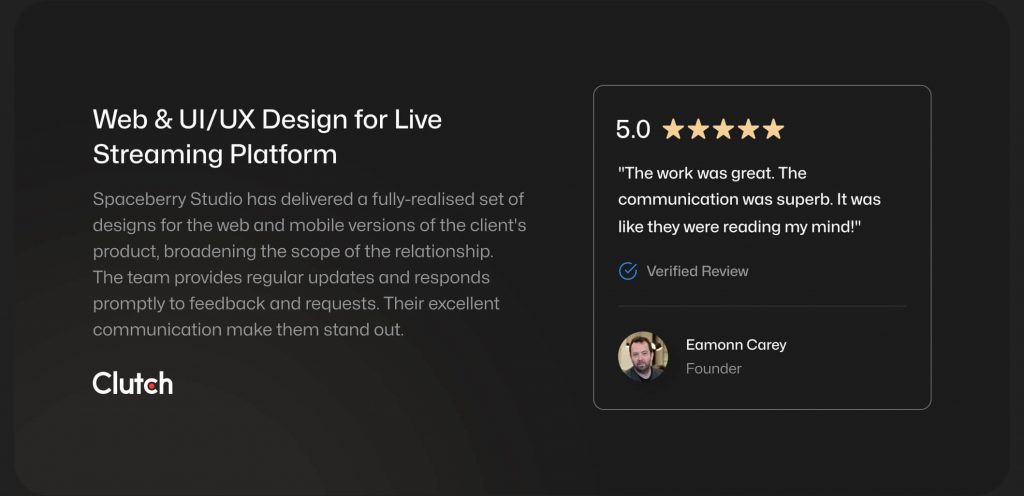 Read the full review from Eamonn Carey here.
Results
The collaboration between Spaceberry Studio and Gorge began with a visionary idea and evolved into a comprehensive design journey. Leveraging our expertise in custom web design, we worked closely with Gorge to create visually appealing and user-friendly web and mobile user interfaces that perfectly aligned with their unique vision. Throughout the process, we ensured transparent communication and collaboration, allowing us to incorporate Gorge's valuable feedback and insights.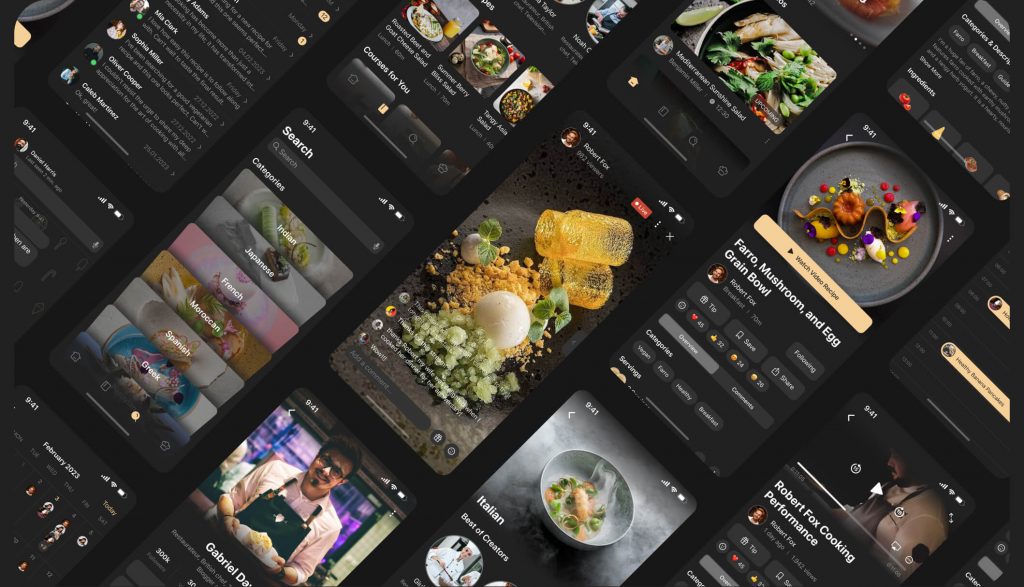 As a result, Gorge received exceptional custom web design tailored to his specific needs. If you're looking for web design, our pricing packages and website design cost ensure that you receive top-quality design solutions that are worth every penny. Contact Spaceberry Studio today to discuss your project and discover how our custom web design services can bring your vision to life.