Pros of having different partners for Design and Development services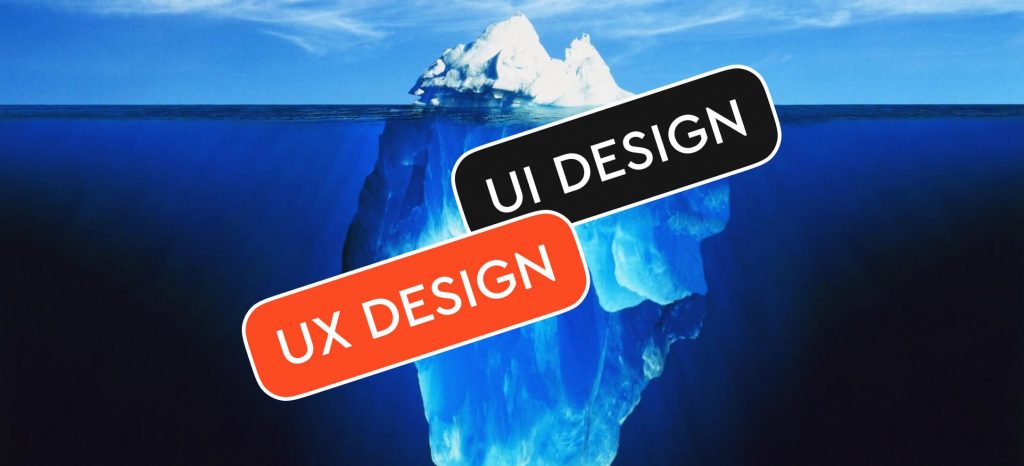 Spaceberry has evolved from a design and development company to a design studio, showing outstanding results in terms of UI/UX. Having gone through many projects, we can confidently assert that Design must be created separately from Development.
If you're looking for a custom web design for your business, it's important to understand the website design cost. Sometimes clients prefer to order design and development work at the same time, thinking that it will save them money and time. Having experience with this on multiple projects, we can confidently say that this is a misconception.
1. Design is not just about the picture
We believe that this point should be made first, as it makes everything else clear. When we talk about design, we have to understand that it's not just about the visual aspect that the user sees. UI is the tip of the iceberg, and while it is definitely important, it should be prioritized only after a deep and comprehensive UX research.
Before starting to create a visual, a highly skilled designer will benchmark (research the client's domain), conduct a qualitative competitive analysis, create user personas and user journeys, and check out all user scenarios. Only after that can they create a comprehensive information architecture of your application.
If you think about it, you may realize that UX designers are, in many ways, business analysts.
The design that you get after the work of a professional design studio is a thoughtful and user-friendly application, which takes into account the weaknesses of competitors and applies best practices in the domain. To summarize, business analysis, done by UX designers, is a core part of the process.
2. Design is flexible
The world is a very volatile place. With our experience working with many clients, we understand that even the most elaborate requirements can change over the course of a project. Especially when it comes to large products. The client learns something new, their partners change, they start to see different user bases, some out of the box solutions become available, or new technologies emerge that become a linchpin for modern products.
These changes can be implemented with greater ease or more difficulty depending on what stage the project is in. Designers are able to adjust the look and feel of a product or service at any stage of the project, and often come up with new ideas based on feedback from the client or investors. However, this flexibility is not always possible when development is involved, as changing features that have already been developed can be expensive.
We can talk as much as we want about how efficiently teams work with Agile methodology, but the fact remains that when requirements change on the fly, it's much harder to deploy a heavy development machine than it is to make design changes.
We had two large projects by comparison. These were both platforms which consisted of a lot of subproducts. In one of them, the development team got involved near the end of the design process, in the second one, development started at the same time as design.
Both products underwent many changes in the process. But in the first case, the designer easily implemented those changes, as development hadn't begun. In the second case, the client constantly heard things like "this is not planned in this sprint" from the development team. This meant parts were developed that were completely unnecessary, as they had begun development before the client changed their mind. These were not mistakes of the development team. It's just that the reality of development is that it cannot be stopped instantly without harming the product.
The price of making changes to the developed product is much higher when development is underway, and often the client has to give up important functionality, because its revision will take a lot of time and money.
3. Design Studios are Experts in Design
More often than not, companies that focus on development pay very little attention to design. It is not their main profile, and the designer comes as an addition.
Before working in our studio, designers have gone their way through major development companies, and experienced firsthand the attitude to design. Design specialization is neglected in such companies.
Design studios, on the other hand, focus on improving this very competence, using new trends in their work and constantly sharpening the skills of designers.
In high-level design studios, there will always be a creative director and design lead whose main mission is to keep the studio at the peak of trends and technologies.
Would you go to a general practitioner with a toothache? Or would you prefer a highly skilled dentist? Would you take a child to an adult doctor, or to a pediatrician?
I am sure that you would choose a more highly specialized option, since you expect a higher level of knowledge from it. Design teams compared to development teams offer exactly this specialization.
4. Freedom from the "Easy to Develop" filter
Development teams have an eye for patterns. This is a professional distortion to look at any request in terms of the ability to fit it into patterns. In other words, to find a way to simplify its development, so it is easy to implement, even at the expense of the quality of the end-result.
Designers are always on the side of the client. This means that they are always looking for ways to improve the user experience, rather than focusing on convenience. This can lead to better products and services that are tailored to meet the needs of the customer.
Designers are more likely to be open to experimentation and unshackled by developer frameworks. The framework is important, but it is better to adapt the product to it after the concept and the basic feel of the product has been defined, rather than clipping each client's idea because it's not convenient.
It's like brainstorming. When conducting it, you can generate any ideas, avoiding criticism of even the most absurd options. To find a groundbreaking idea, you need to allow yourself and other members to voice ideas freely. When constrained, creativity and flexibility suffer, as does the quality of the end result. Designers boast greater amounts of freedom, and therefore, achieve the desired results of the client more often.
5. Prototypes are a Designer's Strength
When starting a new project, the first step is often to create a high-quality prototype. This is where a designer team can shine. By creating the main flows of the product, interconnecting them, and showcasing the main functionality of the application, a designer can create a visually appealing and user-friendly prototype that is easy to understand and navigate. This is essential when presenting the product to potential investors or conducting user testing.
Speaking of user testing, this is where designers can truly showcase their value. By linking screens into a high-quality prototype and prescribing typical scenarios for users, a designer can observe the entire decision-making process of the user. They can see what attracts the user's attention, what they overlook, and how long it takes to complete certain tasks. This insight is invaluable in determining the effectiveness of the design and making necessary updates.
It's worth noting that clients often conduct user testing on their side as well. If the users chosen are a good fit for the product, this can lead to a wealth of insights and updates. A software designer is equipped to interpret this feedback and make the necessary adjustments to the design.
When it comes to presenting a software application to potential investors, simply telling a story about it is not enough. Investors want to see the functionality of the application in action. This is where having a high-quality prototype comes in. By showcasing the main flows of the product and demonstrating its functionality, a prototype can completely immerse investors in the application and help them understand its potential.
Final Thoughts
How do you achieve optimal product quality and cost? Our recommended workflow starts with finding a top design studio with 5 ratings on Сlutch and Awwwards. This ensures that you're working with a reputable and experienced team that has a proven track record of delivering high-quality designs.
If you already have a development team in place, it's a good idea to bring in the design team at the start of the project to discuss any possible limitations or considerations. This will help ensure that the design is feasible from a development standpoint and avoid any potential roadblocks down the line.
Once the design studio creates a trendy masterpiece for you, it's time to connect the development team and allow them to collaborate and interact. This will help ensure that the design is implemented correctly and that any potential issues are identified and resolved early on in the process, ultimately reducing the overall website design cost.
With a successful collaboration between the design and development teams, your best custom website design on the market will be ready to launch. By investing in a high-quality design and prototype, you can not only impress potential investors, but also ensure that your end product meets the needs of your target audience and delivers a great user experience, which is well worth the website design cost.